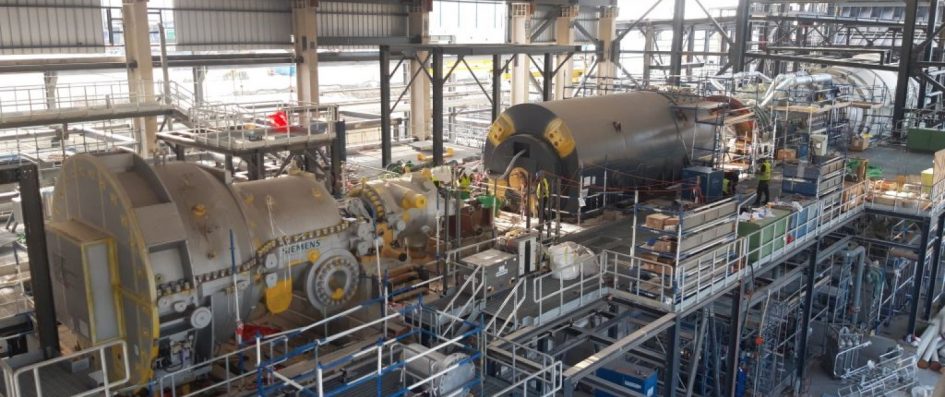 Our "Proterm Energy Industry and Commerce" company has been established on 10th of April 2019 as a branch office of Proterm Enerji Sanayi ve Ticaret A.Ş in Israel in compliance with Israeli laws and procedures. Our company is legally entitled to do business in Israel.
Proje Name : 451 MW Be'er Tuvia Power Plant / Be'er Tuvia – ISRAEL
Employer : Grand Ofek Projects LTD. / ISRAEL
Main Contractor (EPC) : Siemens Israel LTD.
Work Scope Details of Our Company :
1) Steam Turbine :
– Mechanical Assembly of 1 x SIEMENS SST-3000 Steam Turbine
– Assembly of Auxiliary Systems (Oil Module, Cooler Module for Lube oil skid, Drainage Module, Gland Steam Condenser Module, Hydraulic Supply Unit and Dry Air Blower)
– Asembly of Valves
2) Generator :
– Mechanical Assembly of 1 x SIEMENS SGen5-2200H Generator
– Assembly of Excitation Equipment
– Assembly of Auxiliary Systems (Liquid Detector Rack, H2- Gas Skid, Gas Drier, H2-Central Supply Rack, Argon/CO² Central Bottle Rack (backup), Argon/CO² Central Supply Rack, Generator Bearing Exhauster, Seal Oil Storage Tank
Seal oil Unit, CO2 Flash evaporator and Air Dryer)
3) Gas Turbine :
– Mechanical Assembly of 1 x SIEMENS SGT5-4000F Gas Turbine
– Assembly of Auxiliary Systems (Fuel Gas Package, FG Drainage Package, Hydraulic Clearance Optimisation Package, Hydraulic Package, Wash Water Skid, Seal Air Cooler, Purge Water Package, Fuel Oil Package, Control Air Tank
Cable Rack, Turning Gear, Wet Compression Skid and ACCS Skid)
4) Manpower Support Services for Oil Flushing Works